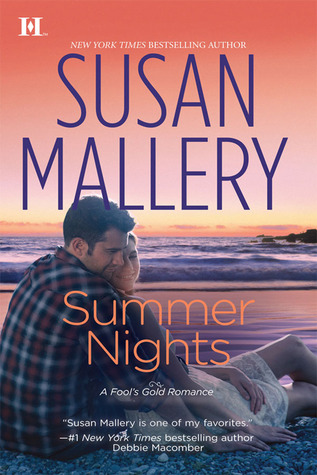 I'm not going to lie to you, I liked this one better than the last one. I know as a cheerleader I shouldn't have a favorite, but I do. Sort of like in the last trilogy when I enjoyed the second book more than the other two. So on June 26, Harlequin released book number eight in the Fool's Gold Series, Summer Nights. LOVED it!
This time around we are witnessing the burgeoning relationship between small-town librarian Annabelle Weiss and horse-whisperer Shane Stryker. If you've read book 7, you'll know that Shane is Rafe's brother. Shane is back in Fool's Gold to start a new phase of his life and isn't looking for any complications and after watching Annabelle dance on a bar, he's convinced that she is one. Little does he know, that little dance was a one-time event and Annabelle is about as perfect for him as they come.
The story is really centered around a large festival (which Fool's Gold is famous for - see the website for some of their most popular events!) and Annabelle needs to learn how to ride a horse. Enter Shane. Although they strike up a friendship, it isn't long before they realize that they have so much more for one another.
A GREAT story that had me laughing and kept me thoroughly engaged and turning the pages. This was a definite favorite and I was sorry to see it end. Remember, you can learn more about Susan and the Fool's Gold series by visiting SusanMallery.com and joining her Members Only section or logging on to Facebook and liking her page. This particular cheerleader is in need of some major points - I'm behind this season! Remember to leave a comment here if you join!